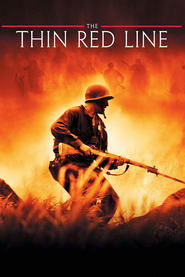 Descriere The Thin Red Line
La hotarul dintre viață și moarte – The Thin Red Line este povestea unui grup de soldați dintr-o companie de infanterie a armatei americane, care luptă în crâncena bătălie de la Guadalcanal, în Al Doilea Război Mondial. Războiul însă este doar un pretext, filmul urmărind schimbările, suferințele și descoperirile de sine pe care le încearcă oamenii în situații dificile. Ajunși în mica insulă din Pacific pentru a înlocui soldații din Infanteria Marină, cei din compania C vor avea parte de o experiență greu de uitat. De la debarcarea fără incidente, până la plecarea de pe insulă a supraviețuitorilor, drumul lung al luptelor înverșunate, udat din belșug cu sânge, este descris cu deosebit talent de echipa de actori și realizatori.
The Thin Red Line nu este doar povestea uneia dintre cele mai importante bătălii din Pacific, o bătălie care avea să întoarcă soarta războiului. Ca și romanul din care a fost inspirat – James Jones a fost unul dintre soldații care au luptat la Guadalcanal – filmul explorează legăturile puternice, fie ele de prietenie sau de dușmănie – care se țes între soldații supuși groaznicei încercări a războiului. Jones asemană aceste legături formate în timpul luptelor cu cele existente într-o familie, căci, asaltați de ororile din jurul lor, oamenii pierdeau noțiunea sinelui sau a lumii din jurul lor. Nu mai luptau din motive patriotice sau pentru binele omenirii, ci pentru supraviețuire și pentru oamenii ce-i stăteau alături.
Titlu original
The Thin Red Line
Nota IMDb
7.6
din 152,189 voturi