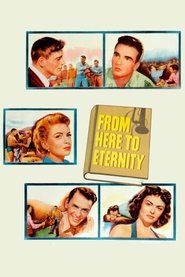 Descriere From Here to Eternity
De aici în eternitate – Deși inițial privit cu scepticism, scenariul filmului a reușit să transpună pe ecran masivul best-seller From Here to Eternity, de James Jones, păstrându-i spiritul și atmosfera.
Finalmente, filmul a fost o reușită din toate punctele de vedere. Este un story despre viețile militarilor (și soțiilor acestora) stationați în 1941 într-o bază militară din Hawaii. Robert E. Lee Prewitt tocmai a sosit prin transfer și are o reputație de boxer bun, iar când căpitanul Holmes îi cere să intre în echipa regimentului, Prew refuză, ceea ce-i atrage animozități și din partea comandantului, care-l pune să facă muncile cele mai penibile din tabără, și din partea colegilor. Cu excepția unuia. Serg. Warden are o toridă relație amoroasă cu soția căpitanului, frumoasa Karen; memorabilă rămâne scena de dragoste de pe plajă, în timp ce surf-eri trec pe lângă cei doi… Prew face cunoștință cu 'Prințesa', alias Alma-Lorene, o prostituată, iar legătura dintre cei doi este una dintre doi singuratici… Între timp, are loc catastrofalul atac japonez de la Pearl Harbor… Războiul ajunge până în paradisiacul Hawaii…
Filmul a avut un buget ridicol de mic, de numai 2 milioane de dolari. Montgomery Clift a semnat pentru suma de 150.000 de dolari; interesant este că actorul a fost realmente beat în scena respectivă a filmului.
Sinatra și soția sa, Ava Gardner, l-au implorat pe producătorul Cohn să-l distribuie pe cântăreț în acest film; a primit modica sumă de 8.000 de dolari, deși prestația sa a fost electrizantă. Lancaster nu a fost nici el mai prejos…
Titlu original
From Here to Eternity
Nota IMDb
7.7
din 38,167 voturi